Grand Rounds
Our Grand Rounds are CPD events for Optometrists held every 2-3 months.
Location: Usually held in the proximity of our four clinics – Doncaster, East Melbourne, Malvern and Vermont South.  Exact venue details are notified via invitation, and are posted on this page 'Upcoming Events' as well as ESA's Facebook page.
Format:  The format for our Grand Rounds is usually based on two speakers per evening, and includes presentation of latest literature relevant to the topic/s, and 2 or 3 case-studies selected for interesting and unique features, including, for example: cataract surgery, ICG Angiography, B scans, ERG's and clinical trials. Discussion and interchange of ideas and observations is encouraged. The formal time will always meet CPD requirements and we aim to manage the total session, mindful that these sessions are generally at the end of a full working day.
For further information or to register for future Grand Rounds, please contact us via email: events@eyesurgery.com.au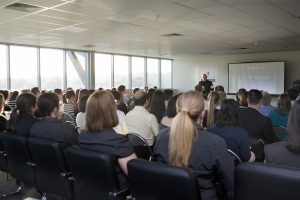 Upcoming Events

Grand Rounds Webinar
Monday 11th May 2020 7:00 pm
Hosted by Redback Connect
Optometrists and GPs are invited watch our live webinar. Please contact Megan Morris via our Events Mailing List for registration details.
Speakers:
Dr Ben Connell, Cataract, Refractive & Corneal Specialist Ophthalmologist 
Presenting: 'Anterior Segment Imaging Case Studies: What imaging can and can't tell us!'
Learning Objectives:
Interpret corneal topography and other commonly used anterior segment imaging techniques
Understand how these imaging modalities apply to common clinical presentations
Appreciate the limitation of these modalities
Dr Justin Friebel, Oculoplastic, Eyelid, Lacrimal & Orbital Surgery Specialist Ophthalmologist
Presenting 'Common eyelid problems (Chalazia, cysts and naevi) and applied decision making' 
Learning Objectives:
Diagnose and formulate a management plan for acute chalazion presentation
Identify the difference between an eyelid cyst, benign naevus and skin cancer
Learn about the three common mistakes we make in making decisions in uncertain circumstances
3 CPD Points Approved by Optometry Board of Australia
Future Grand Rounds
July Webinar – Date TBC
Speakers: A/Prof Andrew Symons & Dr Weng Ng