Grand Rounds
Our Grand Rounds are CPD events for Optometrists held every 2-3 months.
Location: Usually held in the proximity of our four clinics – Doncaster, East Melbourne, Malvern and Vermont South.  Exact venue details are notified via invitation, and are posted on this page 'Upcoming Events' as well as ESA's Facebook page.
Format:  The format for our Grand Rounds is usually based on two speakers per evening, and includes presentation of latest literature relevant to the topic/s, and 2 or 3 case-studies selected for interesting and unique features, including, for example: cataract surgery, ICG Angiography, B scans, ERG's and clinical trials. Discussion and interchange of ideas and observations is encouraged. The formal time will always meet CPD requirements and we aim to manage the total session, mindful that these sessions are generally at the end of a full working day.
For further information or to register for future Grand Rounds, please contact us via email: events@eyesurgery.com.au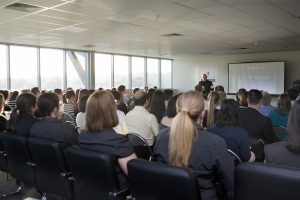 Upcoming Grand Rounds Webinar 2021
Wednesday 17th March 2021 at 7.00 PM via Redback Connect
Speakers
Dr Weng Ng – Presenting: Understanding Unilateral OHT and Glaucoma, with the help of OCT
Dr Trevor Gin – Presenting: Principles of OCT. Interpretation of retinal OCT and correlation with retinal anatomy. Medical retinal cases
Please contact events@eyesurgery.com.au for further information